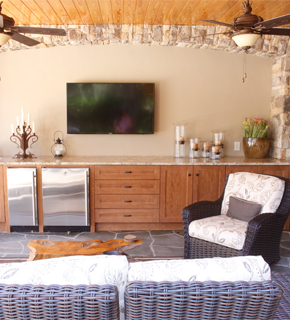 There is a trend today where families are adding second living rooms and kitchens to their homes – and they are doing it outdoors!
Outdoor kitchens are dramatic and attractive additions to any backyard. With today's stainless steel kitchen appliances along with hardscape and landscape materials, skilled contractors are able to take living rooms and gourmet cooking & dining to the outdoors with unique backyard creations.
Some kitchen options that can be incorporated are:
Built in grills
Preparation areas
Sinks
Ice makers
Refrigerators
Storage areas
Wet bars
Dining areas
Keg misters
The options are limitless. If you have it in your house we can find a way to bring it outside.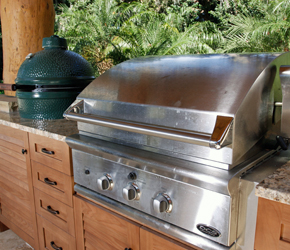 The hardscape materials such as pavers, retaining wall stone, and various coping also deliver a widespread variety of options to give your outdoor kitchen a unique look while complimenting your existing landscape design or home exterior.
There are certain jobs that you cannot do yourself and, thus, require a landscape contractor. Soil grading, rock hounding, and aggregate spreading are all labor intensive jobs that demand special skills and equipment, such as a Bobcat or skid steer. By hiring Nolan Plumbing & Irrigation, you can ensure that proper attention is given to drainage, trenching, and dirt grading.
A high-quality landscaping contractor will make sure that structurally essential jobs such as setting footers, building walls, and trenching for utilities are done right the first time. Our trained, experienced heavy equipment operators can tackle those daunting gravel spreading, land clearing, aggregate removal and light excavation jobs. So whether you are staring at an overwhelming dirt removal or trenching job, look no further for Jacksonville's best landscape contractor.
An outdoor kitchen is more complex than many traditional, indoor kitchens, as each element must be able to stand up to the harsh sun of Northeast Florida.  Working with qualified Jacksonville landscape contractors will ensure your outdoor living room and kitchen look beautiful and last a lifetime.
Makeover Your Old Pool With a Hardscape Transformation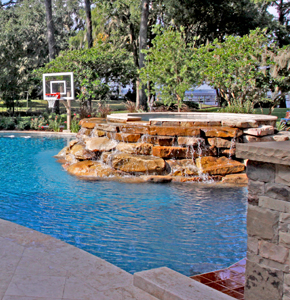 Tired of the concrete around your pool? Is the luster of your oasis gone? A facelift will make a 20 year old pool look like new! If you hate the idea of demolishing the concrete, you have no problem, especially if it is graded properly for runoff. An existing base of concrete can save you up to 40% in landscape costs. After adding a new, updated paver appearance around your pool, other factors like adding some landscaping (a nice variation of color and shape), and even enclosed outdoor spaces like decks, pool houses, and pergolas are always an option to compliment your new outdoor entertainment area.