Whether you use your yard for swimming, relaxing, playing with the family, enjoying quiet drinks, entertaining or other pursuits, there is a hardscape landscape plan that can make this outdoor space feel like a more integral part of your home.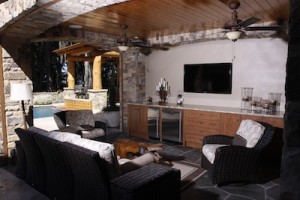 Hardscaping enhances your yard by adding the definition it needs to reach its full potential. By defining distinct areas for different purposes, a good landscape and hardscape plan can turn your yard into an inviting retreat.  Nolan Plumbing and Irrigation can customize your yard to fit your needs and please your aesthetic sense.  Walls and pavers can be used to create gorgeous patios and define areas for outdoor dining, relaxing, sunning and can create a bit of privacy.  They add character and beauty to driveways, walkways and garden paths and define your planting beds.  Hardscaping can be used to decrease time consuming lawn chores.
Cheryl, my neighbor invited my husband and me over for drinks a few weeks ago.  They had recently been having a landscape project taking place and my husband and I were looking forward to seeing the finished work. We were blown away by the transformation.  A beautiful oasis had been created that included a paver patio, an outdoor kitchen and new landscaping. We contacted Nolan Plumbing & Irrigation because we wanted to do something similar at our house.  We met with Wayne Nolan and talked about the look we wanted.  We kept most of the existing landscape but did eliminate the grass and went with some low maintenance plants instead.  Nolan created a beautiful walkway with pavers that meandered through the yard and lead to a sitting area with an outdoor fireplace. The project turned out beautiful and was very affordable and my husband likes not having to cut the lawn anymore.  Thanks Nolan.

-Nancy Gross
Maybe you are interested in the installation of a water feature, a perennial garden, a pergola, fire-pit or outdoor kitchen we will help you create it.  We will work closely with you every step of the way-from creative concept and design all the way through to completion, to capture your vision.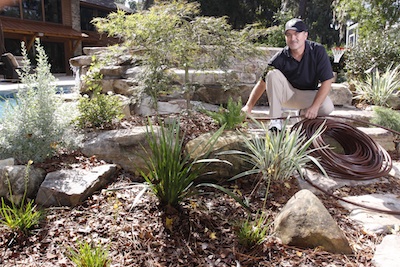 If you're ready to update your existing landscape we can design a plan for you utilizing low maintenance and native plants.  You will add value to your home, increase curb appeal and reduce time mowing and trimming.  Florida-friendly or native plants have many advantages; low irrigation requirements, reduced fertilization, more resistance to pests and diseases than other species. The use of natives rather than alien plants enhances conservation of our natural resources and usually ensures a low maintenance and sustainable garden.  Conservation of soil and water is the guiding principle behind using native plants in a landscape.  Florida experiences seasonal droughts, water shortages, and a variety of other environmental stresses.  The benefit of native plants is that they are adapted to these natural conditions.  By going "native" you create a friendly habitat for birds, butterflies and hummingbirds.
We design and install all types of commercial and residential landscapes and hardscapes
New sod and landscape packages
Tree installation and relocation
Design and consultation
Paver driveway and patio construction
Decorative stone features
Custom back yard creations
Outdoor kitchens and entertainment features
Custom carpentry designs