Did you know that JEA requires Annual Backflow Prevention Testing for homes using reclaimed water and all businesses?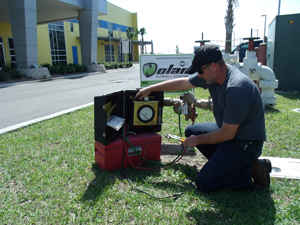 Need Backflow Protection? Nolan Plumbing and Irrigation is licensed and certified to perform Backflow Prevention Testing, Backflow Protection, Repairs and Installation.
Backflow is the backward movement of water flow and may happen if a water main bursts, pipes freeze or an unusually high demand on the water supply causes a reduction in normal water pressure.  These events may allow contaminated water to be drawn back into the water supply.  To prevent this from occurring nearly all water purveyors require some type of backflow prevention device.  These devices must be tested annually to make sure they are functioning properly to protect the water supply.
Backflow assemblies can be found on commercial and public buildings, irrigation systems and residential properties.  Upon completion of testing your devices, we will forward all the necessary paperwork to your water authority on your behalf.
In the event that your backflow assembly fails its test and does not meet the acceptable standard we will notify you and provide a cost estimate for the needed repairs.  We use only calibrated and certified test equipment. No work will be done without your authorization.
I recently received a notice from JEA that I was in violation of local codes and in jeopardy of having my water service turned off.  I am new to the area and had not been aware of this code about backflow.  I called JEA and they sent me a list of Preferred Vendors to choose from.

Nolan's name was on the list.  I had seen their trucks doing work in the area on several different occasions.  After speaking with some of my neighbors who had used Nolan I decided to have them come out.

Nolan informed me that there was a backflow protection device at my house and that it had to be tested annually for proper operation.  I hired them to do the testing.  They completed all the necessary paper work and submitted it to JEA.  Thank goodness I did not have my water turned off.  Thank you Nolan for your timely service.  I will be using your company again.

-Ryan Brown
Nolan Plumbing & Irrigation is a JEA Preferred Contractor. We install and repair all types of commercial and residential backflow preventers
New installations
Existing Repairs and Leak testing
Testing Tagging and Reporting
Hazard identification  and design
Insulation and vandal protection
Frequently Asked Questions About Backflow Protection Services
Call us to schedule a test.  We are a JEA preferred backflow tester.
Assemblies must be tested annually by a certified backflow tester to make sure they function properly.