Whether you need luxury accommodations or basic living efficiencies, we have solutions.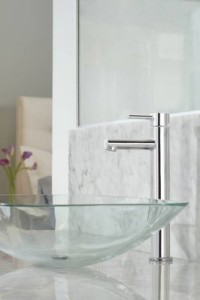 Nolan Plumbing and Irrigation has the expertise and ideas to make your bathroom remodel beautiful and efficient, which adds real value to your home. Instantly.
Water-saving Technology
Toilets are flushing away about 30 percent of all residential water in U.S. homes. It's not surprising that water conservation remains a major issue. A 1995 U.S. Department of Energy standard limits new toilets to 1.6 gallons per flush. We can install the DOE standard or even the California high-efficiency models that deliver a flush with 1.28 gallons per flush. The California toilets carry the WaterSense label.
Dual flush technology is another water-saving option. Two buttons on the tank let you choose a partial flush for liquid waste or a full flush for solid. Some WaterSense models combine high efficiency with dual flush.
Comfort Height
The standard toilet is being replaced by a toilet that is two or three inches taller. The added height makes getting on and off easier, especially for baby boomers. The added comfort is catching on with the younger buyers, too.
We install all types of Shower & Bathtub Replacements
Shower & Bath Surrounds
Walk-in Tubs
Shower & Bath Liners
Conversion of Bathtubs to Showers
Barrier Free Showers
Fixtures Can Make a Huge Difference
Simply updating faucets and handles can add appeal to most bathrooms.
I recently decided it was time to make some upgrades to my plumbing fixtures.  I called Nolan because they have been servicing my irrigation system for years and I knew they were also licensed for Plumbing.

I scheduled a time for them to come out and evaluate and give me some suggestions.  My biggest concern was that the water pressure was low in the kitchen sink and bath tub.  Nolan informed me that just changing the fixtures would not resolve my low pressure.  The problem was the piping itself.
Nolan replaced the old galvanized piping which was 32 years old with new modern plastic pipes.  What a difference this made in my water pressure.  I had them replace my fixtures as well.
The process took three days and the workmanship was very neat and professional.  They used drop clothes throughout the house and even patched the drywall where they had to cut.  I am very impressed and happy with the solution Nolan offered. Thanks.

-Brooks Hill
Bathroom Remodel Tips
Getaway Baths:
Make the bathroom a place to relax. Adding massaging or rain showerheads, a deep soaking tub, or even music can bring serenity to your busy lifestyle.
Safety Features:
Add bright lighting and handholds make bathing easier for the older homeowners; yet, including them in your remodel should improve the resale value of your home.
Luxury Living:
Make your master bedroom a luxurious one by adding a bar complete with a built-in countertop and sink.