We have been designing and installing irrigation systems in the greater Jacksonville area for more than 30 years.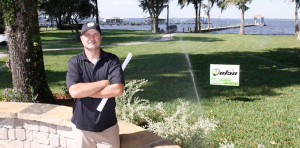 We are certain our experience can provide you with an irrigation system that is cost effective and efficient. Since no two lawn sprinklers are the same we custom design each irrigation system to meet the needs of our customers.
With the high cost of water and mandatory water restrictions we believe in the importance of making every drop count.  As a result we are proactive at implementing cutting edge technology as we design each system we install.   Designing new irrigation systems with high efficiency drip tubing, converting older conventional systems to drip tubing and utilizing low volume water conserving heads and nozzles only make sense.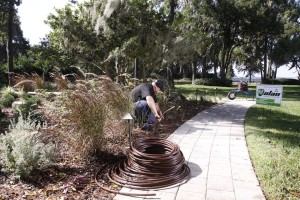 Conventional sprinkler systems spray water onto the streets, sidewalks, vehicles, windows, walls, fences and use large amount of water.  Drip tubing applies water directly to the plants root zone.  This eliminates water loss caused by evaporation, surface runoff or wind interference.  Since the foliage does not get wet there is a reduction in plant disease and weed seed germination.  Your maintenance expense is reduced since there are no sprinkler heads to get hit with the lawn mower or cut by hedge trimmers.
Two years ago we built a new home.  We went with several upgrades throughout the interior and settled for minimal landscaping and decided to wait on installing an automatic sprinkler system.

I saw that Nolan was doing quite a bit of work in our neighborhood and asked for a business card.  Recently I contacted Nolan to give me an estimate.  We talked about using new technology that was every efficient and applied water only where it was needed; such as drip tubing with underground hydration.  This minimized the number of sprinkler heads used and maximized water savings.

Nolan also upgraded my landscape by adding a few trees and some quality specimen shrubbery.  No longer do I have to drag the hose around and my water bill has actually gone down.  Thanks Nolan.

-Heather Smith
We install and repair all types of commercial and residential lawn sprinkler systems
New installations
Existing Repairs and  maintenance
Additions and alterations
Drip applications
Nursery and agricultural applications
Frequently Asked Questions About Lawn Sprinklers
You may have multiple start times in programs B and C.
Subsurface drip tubing can reduce your water usage by 40%.